Okanagan Map | How to Get Here | More Info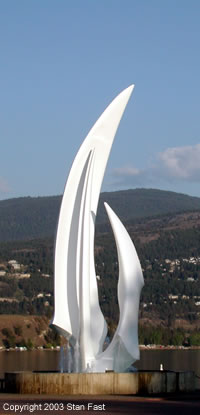 Falcon Ridge Farms is located in Kelowna, a beautiful city on the shores of 90-mile long Okanagan Lake in the Okanagan Valley of southern British Columbia, Canada. Kelowna's population is approximately 150,000.
The Okanagan Valley stretches from Vernon in the north, to Osoyoos in the south, from Spences Bridge in the west, to Malakwa in the east.
One of the world's most beautiful and pristine areas, the Okanagan Valley is an excellent vacation destination that offers many delightful sights and activities.The area is known as BC's fruit and wine country and boasts some of the finest weather in BC. It is a land of bountiful vineyards, hundreds of crystal-clear lakes, historic gold-mining towns, rushing rivers, deep winter snow, high mountain peaks, orchards laden with peaches and cherries, beautiful hills, green grasslands, fertile valleys, and steep-walled canyons. Activities include skiing, boating on Okanagan Lake, hiking, flyfishing on mountain lakes, golfing, and taking winery tours.
Come visit us! There's something special for everyone!
---
Okanagan Map
---
How to Get Here
Fly: From Vancouver, Victoria, Calgary, Edmonton or Seattle to Kelowna or from Vancouver or Calgary to Penticton
Drive: From Vancouver on the Trans-Canada Hwy 1, continuing on the Coquihalla Hwy 5 or branching off on Hwy 97C to reach the Okanagan.  Access also by regularly scheduled bus service.
---
More Information about Kelowna
www.castanet.net – local news, real estate, entertainment
www.tourismkelowna.com – information about Kelowna, things to see and do
www.aboutkelowna.com – all about Kelowna
www.city.kelowna.bc.ca – City of Kelowna's visitor information
www.angelfire.com/bc/incredible/kelowna.html – Kelowna photos